Duplex Forest Residence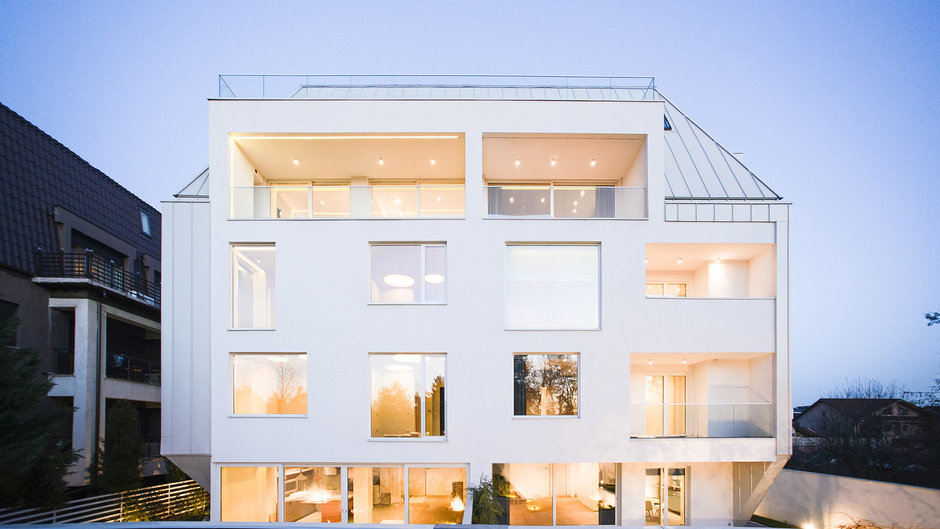 Autor(i):
Bogdan - Constantin Neagu, Iulian Oanță
Colaboratori:
arh. Ema Moroianu, arh. Alexandru Scarlat, House Impact ( proiectare rezistenta), foto: arh. Ovidiu Lucaci
Localizare:
România, București
Indicatori:
RH: S+P+2E+2M
/
Sd: 336.63 m2
/
Su: 2000 m2
/
POT: 40%
/
CUT: 1.92
Comentariul autorului:
Parcela este situata in intravilanul Orasului Voluntari, in vecinatatea Padurii Baneasa, intr-o zona nou construita.
Tema de proiectare a fost aceea de dezvoltare imobiliara la standarde ridicate la cererea pietei formata in mare parte din expati.
Am dorit sa realizam un volum sculptural , monolit, finisat cu tabla alba faltuita preluand simetric tesitura mansardei la nivelul parterului. Orientarea principala a camerelor, avnd in vedere vecinatatile, a fost gandita catre fatada principala si cea secundara .
Imobilul este alcatuit din 8 apartamante duplex din care 4 apartamante dezvoltate pe parter si etajul 1 si 4 apartamente la etajele 2 si 3 precum si un penthouse la mansarda.
Apartamentele duplex de la nivelul parterului beneficiaza de gradini la nivelul terenului cu accese directe din exterior. Duplexurile de la nivelurile 3 si 4 au fost inversate astfel ca accesul principal in acestea se realizeaza la etajul 4 in zona de zi si se coboara pentru zona de dormitoare . Astfel etajele 1 si 2 sunt dedicate zonei de noapte , aceasta inversare avand rol benefic pentru izolarea fonica intre apartamente precum si pentru realizarea unei anume dinamici a golurilor de pe fatade.


The plot is located in the town of Voluntari, in the neighborhood of Baneasa Forest, in a newly built area.
Real estate development at high standards at the market demand formed mostly of expats.
We wanted to design a monolith sculptural volume, finished with a whiteboard sheets which incorporates symmetrical chamfer from the attic to the ground floor. The main orientation of the chambers, given the nearby areas, was directed to the main and secondary façade.
The building consists of 8 duplex apartments situated on the ground and 1st floor and another 4 duplex apartments on the 2nd and 1st attic floor. At the 2nd attic floor there is a penthouse.
The duplex apartments on the ground floor have gardens with direct access from the outside. The duplexes at 2nd and 1st attic floor were reversed so that the main acces is at 1st attic floor, the day time area, and the night time area is down below. This reversal creates the benefit of sound insulation between the apartments and the dynamic of the windows on the facades.
The low-rise housing estate is trying to offer an alternative to overlapping living. Precisely this becomes the reconsideration theme and so the composition and the three-dimensional layout of the proposed object works with duplexes.
The alterity of the image for a collective home is the one that takes over the strange-familiar character of the area. From this point of view, the insertion into the site understands and even iteratively criticizes the identity of the place.