Amenajare birouri Mega Image
Amenajare birouri Mega Image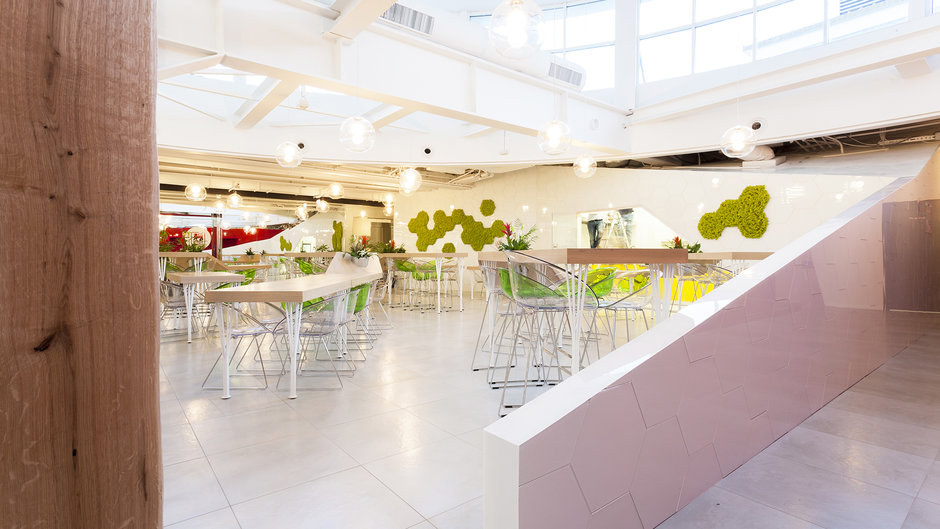 Autor(i):
Bogdan - Constantin Neagu, Dana Stanciucu, Iulian Oanță
Colaboratori:
arh. Alexandru Scarlat, arh. Raul Nicu ( Mega Image), arh. Matei Bianu, arh. Robert Ilinoiu
project management: MT&T Property Management,
foto: arh. Andrei Margulescu
Localizare:
România, București
Indicatori:
Sd: 3690mp m2
Comentariul autorului:
Rezumatul temei concursului de concept lansata de Mega Image pentru amenajarea noului sediu central : Suntem o companie "altfel" cu idei proaspete si avangardiste ….
Elementul central al conceptului e corpul rosu multifatetat al receptiei care delimiteaza zona publica cu salile de intalniri de restul spatiului de birouri . Tema volumelor fatetate a fost extinsa , insa finisarea a fost schimbata pentru a contura specificul zonelor functionale . Astfel in zona salilor de intalniri pentru public s-a preferat utilizarea finisajului de lemn iar in zona spatiului de birouri fatetele au fost realizate din diverse culori.
Un alt element de concept a fost dulapul de separare al coridorului central care are si rol de bancheta cu diverse variatiuni de nivel putand facilita relaxarea si socializarea in zonele de circulatie.
Mesele cafeteriei au fost personalizate in aceiasi idee a preluarii celor doua cote de nivel printr-un plan inclinat . In acest plan inclinat de record isi face loc o mica jardinièra ….
Separarea dintre departamante se face prin intermediul salilor de meeting care au fost personalizate dinamic creand elemente de reper in spatiul amplu al birourilor .
S-a urmarit o tranzitie lina intre diverse abordari estetice in spatiul de aproape 4000 mp evitand preluarea aceluiasi tip de limbaj in toate spatiile amenajate .

Summary of the theme of the contest, launched by Mega Image for their new headquarters.
We are a "different" company with fresh and avant-garde ideas.
The main element of the concept is the red multifaceted reception which marks the limits of the public area with the conference rooms from the offices. The theme of the multifaceted volumes was extended, but the finishing touch was changed to fit the different requirements of the varied functional areas. Consequently, wood finishing was used for the conference area open to the public. As for the offices, the facets were made with a variety of colours.
Another element of the concept was the separation case on the central hallway which also has the role of a bench with different level variations which facilitate comfort and socialisation.
The cafeteria tables were personalised in the same vein of reissuing the two levels through an inclined plane. In this record-making inclined plane there is a little flower stand.
The separation between departments is made through the conference rooms which were dynamically personalised to create markers in the office space.
The purpose of this choice was to create a smooth transition between different aesthetic approaches in a space of almost 4000 sq. m., avoiding the usage of the same kind of aesthetic in every space.