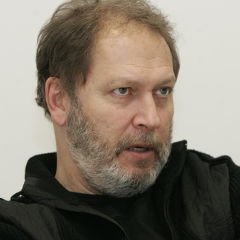 Vladimir Arsene (member of the American Institute of Architects and the Romanian Order of Architects) graduated from "Ion Mincu" University of Architecture and Urban Planning in Bucharest (1976). He settled in the USA in 1978. He was the main designer at Haŕrison Abramovitz Architects and Grad Partnership between 1978 and 1990. He set up the architecture studio Westfourth Architecture in New York in 1991 and in Bucharest in 1994.
He was associate professor at New York Institute of Technology School of Architecture, New Jersey Institute of Technology School of Architecture and Pratt Institute (1990-2003).
He is member of RIBA Accreditation Commission at "Ion Mincu" University of Architecture and Urban Planning (2017, 2022).
He is recipient of architecture awards at Annuals of Architecture in Bucharest; Romanian Biennials of Architecture; Progressive Architecture magazine; American Institute of Architecture New Jersey; City of Santa Barbara Prize, California, USA; City of Escondido, USA; Manisa City, Türkiye; Riga City, Latvia.
He is the winner of many national and international ideas and architecture competitions.
Among the buildings in Bucharest he designed at Westfourth Architecture studio are: Europa House, America House, City Gate Towers, Unicredit Headquarters, Millenium Tower, Bucharest Center Tower, Cortina residential ensemble, the Embassy of Canada, the Embassy of the State of Kuwait, Vernescu House, BU 13 Apartaments.
He designed buildings in Riga and the USA, at Seton Hall University Academic Hall in New Jersey and others. His projects were published in specialized magazines in Romania, Latvia, the United States, Türkiye, Germany and South Korea.
Distincții în cadrul Bienalei Naționale de Arhitectură: