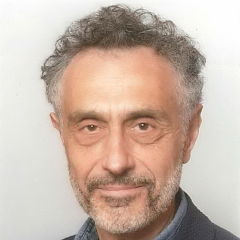 Ștefan Mănciulescu graduated from "Ion Mincu" Institute of Architecture in Bucharest and the Centre for Higher Studies and the Conservation of Historical Monuments - École de Chaillot (1990).
In 1996, he was appointed chief architect of historical monuments for the departments of Cantal, Corrèze and Haute-Loire.
As a restoration architect, he supervised more than 100 building sites and projects on historical monuments in FRance. Nominated and awarded for many of these works, especially those in Massif Central, the Romanian Church in Paris and the prize for the competition in Colmar – the Dominican library in 2016.
He runs practical workshops at the school in Chaillot and provides courses on traditional carpentry and forging. He also took part in many similar workshops in Romania.
He is part of regional committees and commissions of heritage and historical sites in the regions of Auvergne and Limousin as well as Romania. In 1990, he was appointed commissioner (together with Radu Boruzescu) of the exhibition "Romanian Heritage" (Paris, Hôtel de Sully) and co-author of the documentary film "Bucharest. Mémoire du mal".
He participated and contributed to the main events related to heritage in Romania.