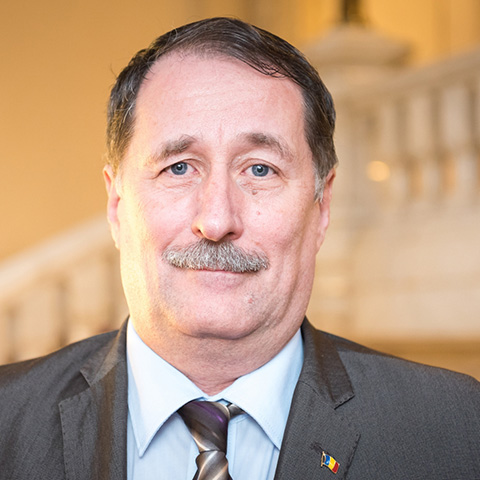 He graduated from "Ion Mincu" University of Architecture and Urban Planning in Bucharest, holds a doctoral degree in architecture with a specialization in historical monuments restoration and is the author of many projects, documentations, studies, research papers, articles, conferences and books in the field.
He is a certified expert in historical monuments restoration.
Between 2006 and 2014, he was the president of ICOMOS Romania, a global expertise organization in the field of historical monuments recognized by UNESCO.
He held different positions in the specialized central public administration: General Director of the Heritage Department (The Ministry of Culture, 1998-2000); Advisor to the Minister of Culture (2005), Commissioner of the Government of Romania for the programme Sibiu -European Capital of Culture 2007 (2005-2008); Secretary General of the National Commission of Romania for UNESCO (2008-2009), State Secretary (The Ministry of Culture, 2012). He made an essential contribution to drafting the legislation for the protection of cultural heritage in Romania.
He was Romania's representative at reunions dedicated to culture and cultural heritage held by UNESCO and the Council of Europe.
He was awarded "Knight of the Order of Arts and Letters" by France (2003) and "Officer of the Order of Cultural Merit" by Romania (2004).
In 2020, he was awarded the Decoration of "Nihil Sine Deo" by the Romanian Royal House for his contribution to the rescue and valorisation of built heritage.